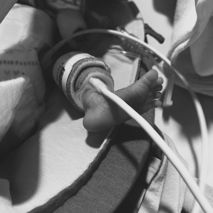 In Memory Of Tommaso & Mattia Lanzano Navarra
Donate
In Memory Of:

Tommaso & Mattia Lanzano Navarra
2023-07-06 - 2023-08-26

Created By:

Julia Falkerby

Collecting for:
In Memory Of Tommaso & Mattia Lanzano Navarra
The smallest coffins are the heaviest.

In loving memory of Tommaso and Mattia.
Tommaso and Mattia came to the world far too early and so tiny after being diagnosed with twin-to-twin transfusion syndrome.

Our fantastic friends and colleagues Cristiano and Cecilia have lost their long-awaited children, first Tommaso and then also Mattia.💔 Their struggle and pain is hard to even imagine.

We want to donate to Spädbarnsfonden to support research and to support parents.

Your gift contributes to support, education and research. The Infant Foundation's vision is that no child should die before birth or during the first year of life from conditions that could have been detected or prevented by medical intervention.

The association works to ensure that all parents who have lost a child and other relatives of the child receive support in their grief. Help us help more people.

Skänk gärna en gåva. Till forskning, till stöd till föräldrar och för att minimera risken att det överhuvudtaget sker. Din gåva bidrar till stöd, utbildning och forskning. Spädbarnsfondens vision är att inget barn ska dö före födelsen eller under det första levnadsåret av förhållanden som hade kunnat upptäckas eller förhindras av medicinska åtgärder.

Föreningen arbetar för att alla föräldrar som mist barn och andra anhöriga till barnet, ska få stöd i sorgen oavsett var man bor i Sverige. Hjälp oss hjälpa fler.
Anonymous User

donated

500 kr

Ida Grönroos

donated

200 kr

Anonymous User

donated

300 kr

ANNA BARAL

donated

1,000 kr

Marie Karlsson

donated

300 kr

Anonymous User

donated

300 kr

Åsa Lund Moberg

donated

300 kr

Anonymous User

donated

300 kr

Cristiano Lanzano

donated

1,000 kr

Gudrun Sif Fridriksdottir

donated

300 kr

Anonymous User

donated

300 kr

Andreas Åkerlind

donated

50 kr

Anonymous Anonymous

donated

200 kr

Mia Hellström

donated

100 kr

Anonymous User

donated

300 kr

Anonymous User

donated

200 kr

Anonymous User

donated

300 kr